http://ecowatch.com/2015/05/08/3d-printing-rhino-horns-stop-poaching/
Can 3D Printing Save Rhinos From Going Extinct?
With large-scale poaching causing the once-abundant rhino population to dip to extinction levels, one Seattle-based biotech startup has come up with a deceivingly simple idea to stave demand of the rhino's coveted horns: fake it.
Pembient, founded earlier this year, is working with rhino horn powder in its labs in order to develop solid rhino horn substitutes, by "duplicating the cells, proteins and deposits in a rhino horn so the synthetic version is genetically similar to the real thing," the Puget Sound Business Journal reported.
The fascinating part? They're doing it by using 3D printing. Making something go from this …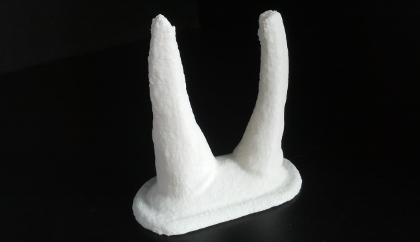 To this … (the one in the middle is the fake one)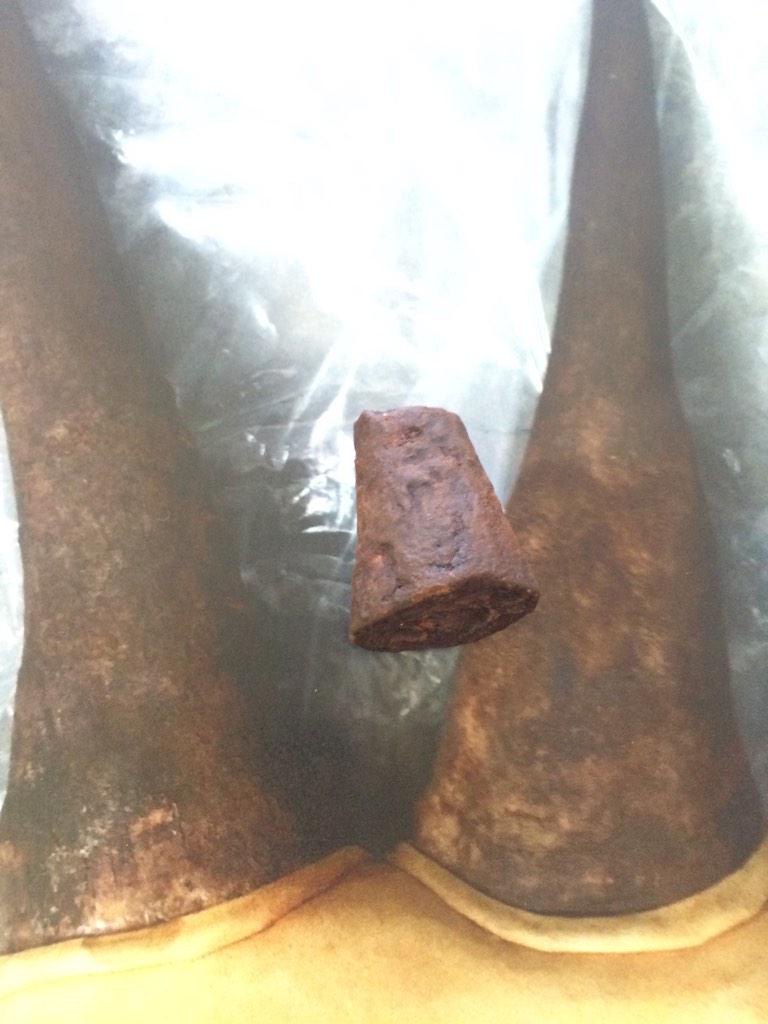 It's unclear how exactly Pembient's making the products, but as TechCrunch explained, "Rhino horns are composed of a specific kind of keratin protein. Pembient figured out the genetic code and was then able to reproduce the horns using the keratin in a 3D-printing technique."
After Pembient CEO Matthew Markus showed a TechCrunch reporter one of their horn prototypes, Markus said, "You can't physically tell the difference. No one looking at this could tell this wasn't from a rhino. It's the same thing. For all intents and purposes, this is a real rhino horn."
Rhino horns are used in traditional Chinese medicine and are considered a cure-all for many types of illnesses, driving a devastating global black market. Pembient's goal is to replace this illegal, $20 billion wildlife trade with fabricated wildlife products, such as rhino horn and elephant ivory, at prices below the levels that induce poaching.
"We surveyed users of rhino horn and found that 45 percent of them would accept using rhino horn made from a lab," said Pembient. "In comparison, only 15 percent said they would use water buffalo horn, the official substitute for rhino horn."
Markus also told New Scientist that Vietnamese rhino horn users have said that Pembient's manufactured rhino powder has a similar smell and feel to wild rhino horns. If all goes to plan, the fake horns could be on the market by next fall at a tenth of the price of illegal ones, the publication reported.
However, conservationists have pointed out that the company's plan doesn't placate global demand for real rhino horns, especially in countries where it's considered a status symbol to own one.
"The synthetic horns will not have an impact on current rhino horn users that want real horns from dead rhinos," Douglas Hendrie, technical advisor at Education for Nature–Vietnam told New Scientist.
We've seen 3D printers do some pretty incredible things, from "printing" sustainable food to tackling plastic waste. Can this new technology help save the rhino?
ecowatch.com
by Lorraine Chow | May 8, 2015 9:15 am