http://www.theguardian.com/artanddesign/architecture-design-blog/2015/aug/05/the-first-3d-printed-pill-opens-up-a-world-of-downloadable-medicine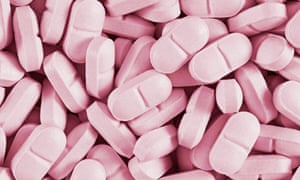 The first 3D-printed pill opens up a world of downloadable medicine
Now that the US has approved a 3D-printed drug, pharmaceuticals companies in the UK are hoping their patents will be next – from the pyramid-shaped pill-makers to the man who has done for drugs what Apple did for music.
With architects printing lumpy plastic houses, fashion designers printing oddly-shaped dresses and food companies printing dodgy-looking hamburgers, the hype around 3D printing can often seem like a novelty. But news that the world's first 3D-printed drug has just been approved suggests that, beyond the realm of personalised plastic trinkets, the technology still has a huge amount to offer.
Developed by Ohio-based pharmaceutical company Aprecia, Spritam levetiracetam is a new drug to control seizures brought on by epilepsy. Approved by the US Food and Drug Administration this week, it employs the company's trademark "ZipDose" technology, which uses 3D printing to create a more porous pill. Its structure means the pill dissolves more quickly on contact with liquid, making it much easier to swallow high doses than a conventional tablet.
The 3D printing process also allows layers of medication to be packaged more tightly in precise dosages, and it points to a future of more personalised medicine. 3D-printed pills could be custom-ordered, based on specific patient needs, rather than on a one-drug-fits-all approach.
"For the last 50 years, we have manufactured tablets in factories and shipped them to hospitals," said Dr Mohamed Albed Alhnan, a lecturer in pharmaceutics at the University of Central Lancashire. "For the first time, this process means we can produce tablets much closer to the patient." By making slight adjustments to the software before printing, hospitals could adjust doses for individual patients, a process of personalisation that is otherwise prohibitively expensive.
The porous pill technology could also have important benefits for other drugs, according to Marvin Rorick, a neurologist at Riverhills Neuroscience in Cincinnati. "In my experience, patients and caregivers often have difficulty following a treatment regimen," he said. "Whether they are dealing with a swallowing disorder or the daily struggle of getting a child to take his or her medication, adherence can be a challenge. Especially for children and seniors, having an option for patients to take their medication as prescribed is important to managing this disease."
While 3D printing has already been embraced in other medical fields – from printing new jawbones in facial reconstruction to custom-shaped teeth and other dental implants, as well as producing personalised prosthetics – this is the first time the technology has been approved for the production of drugs; and it won't be the last time.
Researchers at the School of Pharmacy of University College London have been developing a technique to 3D-print pills in different shapes, from pyramids to doughnuts, using a technique known as "hot melt extrusion". The different forms, which would be hard to manufacture using standard production techniques, release drugs at different rates. Their research has found that the rate of drug release is dependent not on surface area, but on the surface area-to-volume ratio. A pyramid-shaped pill, for example, releases a drug slower than a cube or a sphere, allowing absorption to be controlled.
While the Spritam pill similarly uses 3D printing primarily to change the physical structure of the pill, other researchers have been working on how the technology could be used to develop new drugs at a molecular level. Professor Lee Cronin at Glasgow University has been working on a "chemputer", a sort of 3D-printing chemistry set, which can be programmed to make chemical reactions and produce different molecules. Describing the process as similar to what Apple did for music, he envisages a world where patients will be able to download the "recipes" for drugs and print them at home. In the future, he suggests, we won't be buying drugs, so much as blueprints or apps.
theguardian.com
by Oliver Wainwright | Wednesday 5 August 2015 14.42 BST