http://www.theguardian.com/healthcare-network/2015/sep/04/tattoos-to-3d-printing-five-inventions-that-will-revolutionise-healthcare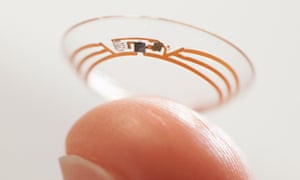 Tattoos to 3D printing: five inventions that will revolutionise healthcare
Most people know they are sick or their health is at risk because of symptoms – pain, temperature, swelling, rash etc. These are the alarm bells that drive people to doctors. However, new epidemics like obesity and type 2 diabetes can start causing damage a long time before symptoms appear, and no alarms go off.
Today we can meet these challenges with new allies. Beyond the health and fitness uses, the new world of wearables (external surface sensors) and, in time, digestibles (nanoparticle sensors that can transmit information from within), offer the opportunity to restore control back to us. Advances in biotechnology as well as material science offer us alternatives never before dreamed possible.
Google's smart contact lens
This contact lens has an embedded sensor that measures the glucose level in your tears every second and transmits that data to a device (ie a smartphone) where it can be displayed or transmitted to a medical professional. It can also change colour if glucose levels fall below or rise above specific levels. The limiting step at the moment is powering the device. Currently it includes a small antenna which is placed between two layers of glass along with the sensor but this has to be close to a power source.
Medical tattoos
Butterfly biostamps the size of a thumbnail measure sun exposure, and a medical stamp can measure motion, temperature, heart rate and perspiration, or oxygen saturation.
There's a new version that can be placed directly on brain tissue to monitor epileptic seizures and one that can be draped around the heart helping better detect arrhythmias and give finer control to pacemakers. The latter would use the heart's motion to convert the energy of muscular contraction into electrical energy.
The 2025 vision is that every baby in the developing world will be tagged with several biostamps at birth. One on the wrist or ankle would replace the hospital bracelet and allow nurses to monitor the baby's heart rate, temperature respiratory rate and oxygenation.
At UC San Diego, they have created a different type of tattoo which currently lasts on the skin for about 24 hours, applying a very mild electrical current to the skin surface for 10 minutes forcing sodium ions to migrate towards the printed electrodes. A built-in sensor then interprets the strength of the charge generated to determine a person's overall glucose levels. Two further refinements are needed to make this ready; at present it is not connected to a numeric read out, and they are working to extend the life beyond 24 hours.
Biological 3D printing
A team at Princeton printed a bionic ear and a team at Cambridge has printed retinal cells to form complex eye tissue. But Jennifer Lewis, a biological engineering professor at Harvard, has solved the dilemma of how to print tissues with full blood supply (essential if you are going to create functional replacement organs) and has taken her team closer to being able to print a full kidney (currently the most widely transported organ). Making complete organs requires even more complex structures but with new innovations we can look to a future where damaged or worn out organs, from kidneys to hearts, could be printed to precise design specifications.
Optogenetics
Various forms of direct stimulation to the brain (implanted electrodes, vagal nerve stimulation etc) have been used in a variety of situations including depression. Now there is the possibility to use encoded genetic proteins that change in the presence of light to stimulate areas of the brain non-invasively for a particular purpose. While initial approaches used methods to genetically alter cells that could result in cell destruction limiting their practical value, the University of Chicago has recently developed an alternative which uses tiny gold nanoparticles that allow the modification of cells using low-level infrared lights and which remain intact and effective within cells over the long term without hurting or damaging nearby cells. While still in its infancy, in the next 10 years we will see new approaches and even more refined procedures of central nervous stimulation used to do everything from enhance learning to treat depression.
Real-time physiological monitoring
A low-cost device with multiple sensors that could monitor heart rate, temperature, oxygen saturation, blood pressure, respiratory rate, fluid state, and glucose could provide a comprehensive output on the body's dynamic health. While still in phased development, the first versions of such devices exist in the US and Switzerland. Couple their sensor capabilities with analytic data fusion software and you have real-time dynamic physiological data. No longer do I need to do an artificial stress test to see how your heart behaves under strain or what is most likely to push you into diabetic crisis. Now I can see that your heart's function was pushed to extremes at 2pm on Thursday and 5pm on Friday. With a report of your body's reaction to exercise, increased stress at work, overeating, episodic illness, lack of sleep, you can not only assess your vulnerability but understand what patterns in your life will most likely tip you over the edge. When I get up in the morning currently I know more about the state of my car than I do about my own health. With these technologies finally that is about to change.
theguardian.com
by David Whitehouse, Chief medical officer, UST Global | Friday 4 September 201507.45 BST