http://www.theguardian.com/fashion/2015/jul/28/are-we-ready-to-print-our-own-3d-clothes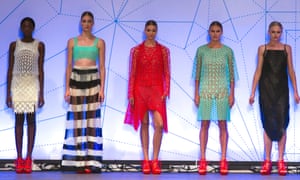 Are we ready to 3D print our own clothes?
3D printing in fashion might not be new. But one designer thinks soon everbody will just print their entire wardrobe, which could change holiday packing for ever.
Imagine going on holiday with an empty suitcase, checking out the vibe of the hotel bar on arrival, then printing out the perfect dress to match it in your room. Such a delicious possibility could be on offer – one day – thanks to 3D printing. In fact, the work of one fashion student, Danit Peleg, suggests it could be edging nearer.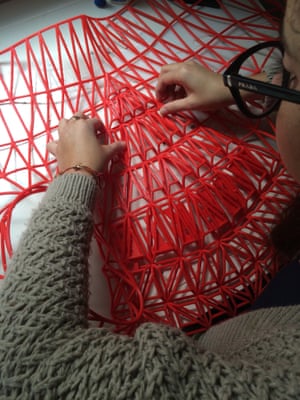 From a mesh-effect little black dress to a bright red jacket emblazoned with the word "Liberté", Peleg produced her entire graduate collection using a 3D printer. Though others have worked with printers before – it has become Dutch designer Iris van Herpen's signature, in fact, with spooky space-age ensembles appearing on catwalks and on Björk – this is the first full collection designed to be produced, specifically, on the smaller machines that can be used in people's homes.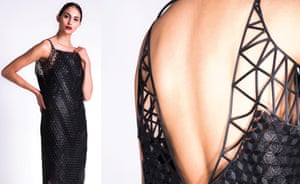 As the sometimes spooky, often spiky, world of 3D fashion goes, the pieces are fairly wearable – they are a riot of geometric shapes and futuristic patterns, but the texture is bouncy, rather than dusty and hard, thanks to the use of a flexible material called FilaFlex. Peleg's latticed maxi skirt is very on-trend – long, transparent skirts that show off the wearer's underwear have become a recent catwalk and red carpet staple, seen at Dolce and Gabbana and Valentino, although Peleg claims inspiration in Eugène Delacroix's "Liberty Leading the People" – and the triangular shapes found in the composition of the painting.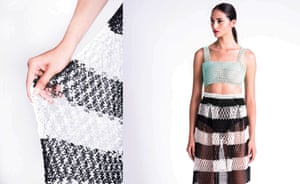 We're probably quite a few summers away from this becoming part of your holiday packing strategy, however, given the costs and time involved. The red "Liberté" jacket, says Peleg, a student from Israel's Shenkar art and design school, "took 220 hours to print and about a kilo of materials. Materials would cost 70 euros. But the main issue is printing time – one would need to buy or rent a printer for 220 hours. A printer of the type I used costs 1,700 euros. Renting it would maybe cost 250 euros per week, so I would peg it at at least 600 euros for printing, not including design, assembly, and electricity. It's still a costly operation, but of course this will change as technologies evolve." Clothes are printed section by section and are then assembled.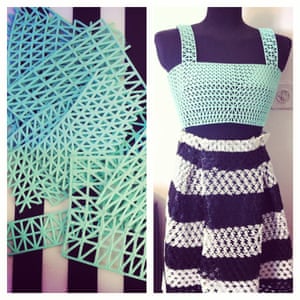 But one day, says Peleg, the process could be pretty simple. "Customers could download the patterns, just like music files, and print them."
theguardian.com
by Hannah Marriott | Tuesday 28 July 2015 06.00 BST