http://www.rt.com/business/253785-3d-printing-industry-growth/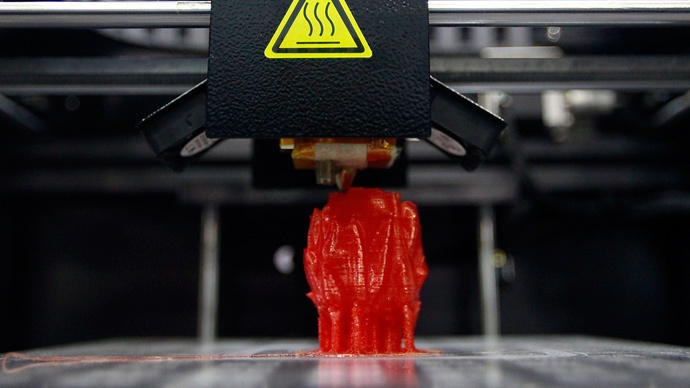 Wave of future: 3D printing industry to quadruple by 2020
3D printing can produce almost everything from human stem cells to a car,and is at its most popular in the industry's 29–year history. It has grown by 35.2 percent in 2014 and is expected to become a $20.2 billion global industry by the end of the decade.
The global industry for 3D printing, or additive manufacturing as it is sometimes called, was worth $4.1 billion last year, following a 34.9 percent growth on 2013, according to Wohlers Report 2015. The industry has experienced a compound annual growth rate of 33.8 percent over the last three years.
It's impossible to find another industry with more than 25 years of experience that could have such kind of growth, says consultancy founder Terry Wohlers, who has been tracking the growth of the additive manufacturing industry since the 1980s.
The 3D printing technology industry began in 1986, and was worth just $295 million in 1995. The worldwide market for 3D printers, associated materials and services is expected to grow by 56 percent this year to $5.2 billion compared with $3.3 billion in 2014, according to the data from research firm Canalys.
"As we expected, the 3D printing market has grown substantially over the past few years. We have seen improving print speeds, a wider range of materials and new forms of additive manufacturing methods," Joe Kempton, Canalys research analyst says. He pointed to the increase in vendors from Asia, which is taking on dominant existing markets, such as Germany and the US.
3D printing is a technology which allows designing objects using software and then manufacturing using a layering technique. It is a prototyping process where a real object is created from a digital 3D-model, which can be a scan of 3D images or can be drawn using computer-assisted design or simply can be downloaded from the internet. People in 3D printing usually say "If you can draw it, you can make it".
An estimated 526 additive manufacturing (AM) systems were sold in 1995 from 15 system manufacturers located in the US, Germany, and Japan. In 2014, 49 system manufacturers in 13 countries produced and sold an estimated 12,850 industrial 3D printing systems. Last year hundreds of mostly small companies worldwide produced and sold nearly 140,000 desktop 3D printers that sell for less than $5,000 each.
Promising future
3D printing, combined with the internet, can rewrite history say experts. Now everything can be downloaded and printed at home. Additive manufacturing allows people to print real-life products and part replacements in their home or office. The only requisite is a 3D printer which allows printing the object in three dimensions, and printing materials such as plastics, waxes, ceramic, and metal. However, the process is a long one, it takes hours or even days to print a 3D model and often a tiny error can make the entire print useless. The high cost of a 3D printer is also a big drawback for the individual home user; home 3D printers today vary in price from £300 to £3,000.
READ MORE: Wi-Fi EYE: Scientists developing 3D-printed eyeballs with filters & camera
The 3D printing revolution is expected to continue and to challenge not only traditional manufacturing but also to have a remarkable effect on automotive, medical, and other industries. Sixty-seven percent of manufacturers are already using 3D printing according to PriceWaterhouseCoopers.
One of the most important applications of 3D printing is in the medical industry. With 3D printing, surgeons can produce mockups of parts of their patient's body which need to be operated on. Almost everything from aerospace components to toys will be possible to build with the help of 3D printers. 3D printing is also used for jewelry and art, architecture, fashion design, art, architecture and interior design.
3D printers will continue to fall in price and improve in speed and quality. The aerospace, automotive, and medical sectors will continue to be the major revenue drivers going forward over the next five years, according to Canalys.
With 3D printing, companies can now experiment with new ideas and numerous design variations with no extensive time or tooling expense. General Electric, Boeing, and BMW have already invested millions of dollars into the technology which is considered by some as the most interesting of our time.
References:
rt.com
http://www.rt.com/business/253785-3d-printing-industry-growth/