Another Sensational Milestone in the World of 3D Printing – The World's Tallest Building Built from Recycled Construction Waste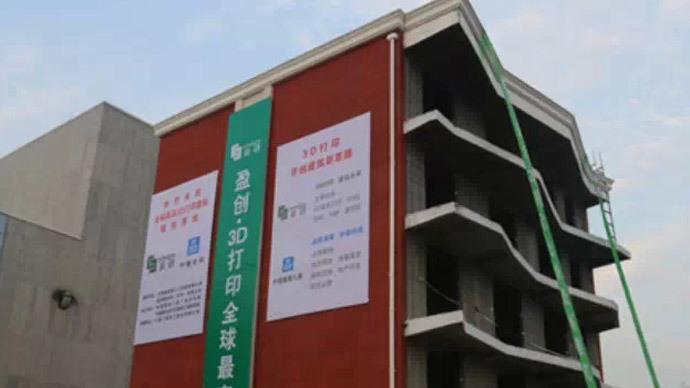 A Chinese company has used 3D printers to create five-story homes using construction waste. The project architects say this is the world's tallest building constructed using this technology.
The new project is the brainchild of Shanghai-based WinSun Decoration Design Engineering Co, who also managed to use 3D printing technology to create a 1,100 square meters villa in the Suzhou industrial park of China's Jiangsu Province. It is not known how comfortable the buildings will be to live in, but one cannot argue with the cost, the villa complete with interior decoration cost a little over $160,000.
According to the 3D printing website
3ders.org
, it took the company a day to print one level of the building and another five to put it together. In order to undertake the mammoth task, the company used a massive 150-meter long and 6 meter high printer. They use recycled building waste for the materials or 'ink' which also contain glass fiber, steel and cement and special additives. The process works by secreting layers of construction material on top of each other to create densely packed building blocks.
The company says the buildings are perfectly safe to live in, and are expanding their horizons and hope to build housing blocks as tall as 12 stories in the future.
WinSun estimates 3D printing technology can be very savvy: it may save between 30 and 60 percent on building materials with costs slashed by 50 percent up to 80 percent. The firm said that it may also shorten production time by 50 to 70 percent.
The company has been building up a reputation. In April, it managed to print 10 full-size houses in a day.
References: